Enjoy Oishi buffet promotions in the heart of Bangkok
Enjoy authentic Japanese delights with Oishi buffet promotions
As one of the largest and most incredible cities in the world, Bangkok offers a spectacle of attractions to appeal to every taste. Nightlife prevails and a delicatessen of strobe lights, dancing girls and cheap drinks is enough to tempt even the shyest of souls. As the capital of Thailand, Bangkok is also one of the best cities in the world if you are a bit of a foodie. Thai cuisine is renowned for being imaginative and delicious anyway, however the city of Bangkok is home to literally hundreds of restaurants, delivering plenty of different pallets. From Japanese to French and everything in between, the city of Bangkok will cater to your specific desire. If you need to build up an appetite first, this is the right place to do it. Attractions such as Skybar, Wat Pho, the Grand Palace and Lumphini Park will keep you occupied for starters, however this city is riddled with hundreds of different options. From entertainment to culture to scenery, Bangkok will provide you with an assortment of ideas to keep you occupied during your stay. Once you have built up a healthy appetite, the Oishi buffet promotions should always be considered if you enjoy dining the Japanese way.
An Oishi buffet promotion is the obvious choice if you are passionate about Japanese cooking, enjoy plenty of variety and like surprises. The Oishi buffet promotion sets have been well thought out and offer you a dynamic taste of
Japanese cuisine
. Dishes such as Salmon Teriyaki and Kee Mao Ramen are just a small segment of what is available throughout this menu and the numerous side dishes will give you plenty to snack over. The Oishi buffet promotions are available every day of the week, however by dining at this restaurant, you will have access to the rest of the
Oishi menu
too, so perhaps you could experiment with the appetisers or sushi sets. The Oishi restaurant is incredibly authentic and brings the best of Japanese decor to Bangkok. As you may imagine already, the staff are quite humble, yet beautifully dressed and offer a charming and elegant service. The Oishi buffet promotions are especially suitable if you are dining with friends. Enjoy some of the finest Oriental cuisine available while engaging in pleasant conversation with those closest to you. However don't forget that you can always dine at home by utilising the reliable foodpanda services.
Let foodpanda bring the Oishi buffet promotions to you!
We have established our service for one reason only, to serve you and your appetite. Order as much as you wish from the Oishi menu and it will be delivered to you promptly, ensuring it is still boiling hot. The city of Bangkok can be extremely busy, however we will always try to drop your food off within an hour or so of ordering. After downloading our application, you will have access to everything on the Oishi menu, including any updated promotions or special offers. You won't be required to make any phone calls as our service is exclusively based on the internet, making your life far more convenient. No misunderstandings of communication will mean you get exactly what you ordered. We will accept multiple forms of payment including from all major credit cards. Once the bill has been settled, you can expect a knock on your door from one of our friendly staff in no time.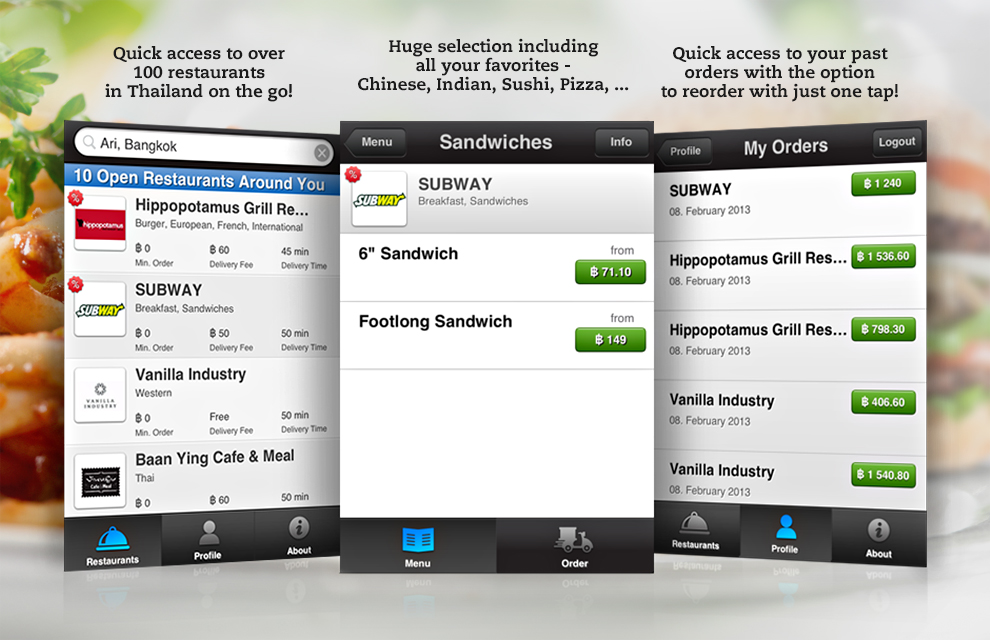 Order Oishi delivery via foodpanda Apps!
Popular Restaurants